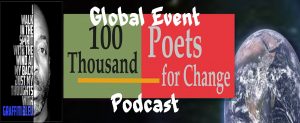 What changes would you like to see as a result of having this event?
How else has the 100Thousand Poets for Change movement inspired you?
What changes have you seen from the 1st time you've heard about this movement until today the present day?
The last question I will ask is one I will ask myself to better describe why we are here.
What change do I see as a result of this podcast?
Poets, Participants or supporters of the movement of any kind may call us live on the air via Blog Talk Radio at:
(929) 477-1388
The show will air for 2 hours and it starts at:
9:00 am Pacific Time (San francisco)
5:00 pm (If you're in London)
12:00 pm (If you're in New York)
You can also just listen in by clicking this link
http://www.blogtalkradio.com/gbleuradio/2016/09/24/just-my-thoughts-with-graffiti-bleu
during the date and times listed above.
There are over 500 events confirmed for this day. If you have any questions about this podcast you can contact me through gbleu.com
If you have any questions about the events, the 100 Thousand Poets for Change movement or how to participate in any way please go to http://100tpc.org/