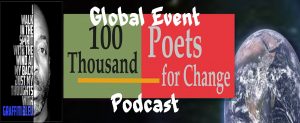 On September 24 2016 the 100 Thousand Poets for Change movement is having a global event. gbleu radio courtesy of Graffiti Bleu Worldwide is broadcasting a live podcast to bring awareness of this global event to the masses as well as give the movement a platform on which they may communicate live with each other. However, before we go any further, let us put the attention on the movement itself.
Terri Carrion is an Associate editor and visual designer of Big Bridge Press and zine. Michael Rothenberg is a Poet and also is an editor of Big Bridge Press and zine. Together they are co-founders of the 100 Thousand Poets for Change movement. About this time last year, I was back in the United States. Processing the spiritual experience I had in Salerno Italy just 3 months before then. As a poet, I knew the power of words. Yet the experience in Salerno, showed me that power was feared by many in power. As a spiritual man, I also knew the power of love. My experience in Salerno put me face to face with the manifesting result of love which is passion. That passion was on display at on June 3rd through June 8th of 2015. That's when the 100 Thousand Poets for Change Movement had a World Conference in Salerno Italy. That is where I met both co-founders of the movement, Terri and Michael. Now would be a great time to talk about the mission statement of the movement, but I will not.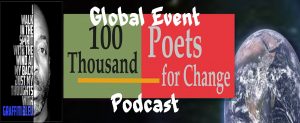 Now would also be a great time for me to elaborate on the poets who came from around the world, the beautiful weather, wine and women. I would rather tell you about what I learned simply from watching. I was a witness to the very "change" they proclaim in the title. I watched a couple work in tandem on a common goal. So in that (Terri and Michael) taught me that this sort of relationship was possible. I have seen and experienced so many relationships that more resembled "A Team of Rivals" other than a partnership. I was also a witness to a the organization's victory earlier than most did. As I attended each meet and greet, each round table discussion and each poetry performance; I noticed that the victory was hidden in the fact that poets from all around the world were actively engaged in a movement that inspired them. Is our goal as artists NOT to inspire others? Is inspiring others NOT on the to-do list of every human soul? I was inspired. Completely and unequivocally, what I was witnessing was history being made. I was witnessing the page turning in the great book of the universe. I was watching causality personified in a character archetype that would best be described as "freedom" In the realm of creativity, I often found myself in the role of mentor. I was know the humble student. A student with a desire to add to this movement, evolve with this movement and assist in helping this movement achieve its ultimate goal. Which makes this a perfect time to share the 100 Thousand poets for Change Mission Statement with you.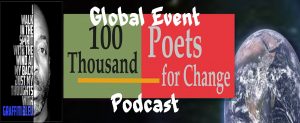 The 100 THOUSAND POETS for CHANGE MOVEMENT
for PEACE & SUSTAINABILITY!
Do you want to join other poets, musicians, and artists around the USA
and across the planet in a demonstration/celebration to promote peace and sustainability and to call for
serious social, environmental and political change?
1) What kind of a change are we talking about?
2) I want to organize in my area. How do we begin to organize?
"What kind of CHANGE are we talking about?"
The first order of change is for poets, writers, musicians, artists, activists to get together to create and perform, educate and demonstrate, simultaneously, with other communities around the world. This will change how we see our local community and the global community. We have all become incredibly alienated in recent years. We hardly know our neighbors down the street let alone our creative allies who live and share our concerns in other countries. We need to feel this kind of global solidarity. It will be empowering.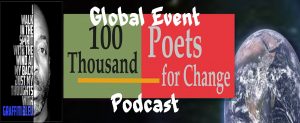 And of course there is the political/social change that many of us are talking about these days. There is trouble in the world. Wars, violation of human rights, ecocide, racism, genocide, gender inequality, homelessness, the lack of affordable medical care, police brutality, religious persecution, poverty, censorship, animal cruelty, the list goes on and on.
It appears that transformation towards a more sustainable world is a major concern and could be a global guiding principle for 100 TPC events. Peace also seems to be a common cause. War is not sustainable. There is an increasing sense that we need to move forward and stop moving backwards. But we are not trying not to be dogmatic. We hope that together we can develop our ideas of the "change/transformation" we are looking for as a global community , and that each local community group will decide their own specific area of focus for change for their particular event. All we ask is that local communities organize events about change within the guidelines of peace and sustainability.
"I want to organize in my area. How do we begin to organize?"
We will stop it there and ask the every poet who is participating in this Global Event the following questions:
What area of the world are you and your event being held?
What is the nature of your event?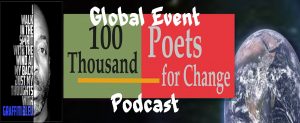 What changes would you like to see as a result of having this event?
How else has the 100Thousand Poets for Change movement inspired you?
What changes have you seen from the 1st time you've heard about this movement until today the present day?
The last question I will ask is one I will ask myself to better describe why we are here.
What change do I see as a result of this podcast?
Poets, Participants or supporters of the movement of any kind may call us live on the air via Blog Talk Radio at:
(929) 477-1388
The show will air for 2 hours and it starts at:
9:00 am Pacific Time (San francisco)
5:00 pm (If you're in London)
12:00 pm (If you're in New York)
You can also just listen in by clicking this link
http://www.blogtalkradio.com/gbleuradio/2016/09/24/just-my-thoughts-with-graffiti-bleu
during the date and times listed above.
There are over 500 events confirmed for this day. If you have any questions about this podcast you can contact me through gbleu.com
If you have any questions about the events, the 100 Thousand Poets for Change movement or how to participate in any way please go to http://100tpc.org/