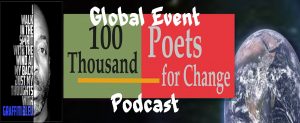 And of course there is the political/social change that many of us are talking about these days. There is trouble in the world. Wars, violation of human rights, ecocide, racism, genocide, gender inequality, homelessness, the lack of affordable medical care, police brutality, religious persecution, poverty, censorship, animal cruelty, the list goes on and on.
It appears that transformation towards a more sustainable world is a major concern and could be a global guiding principle for 100 TPC events. Peace also seems to be a common cause. War is not sustainable. There is an increasing sense that we need to move forward and stop moving backwards. But we are not trying not to be dogmatic. We hope that together we can develop our ideas of the "change/transformation" we are looking for as a global community , and that each local community group will decide their own specific area of focus for change for their particular event. All we ask is that local communities organize events about change within the guidelines of peace and sustainability.
"I want to organize in my area. How do we begin to organize?"
We will stop it there and ask the every poet who is participating in this Global Event the following questions:
What area of the world are you and your event being held?
What is the nature of your event?