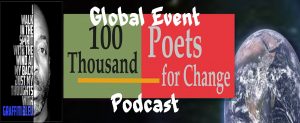 The 100 THOUSAND POETS for CHANGE MOVEMENT
for PEACE & SUSTAINABILITY!
Do you want to join other poets, musicians, and artists around the USA
and across the planet in a demonstration/celebration to promote peace and sustainability and to call for
serious social, environmental and political change?
1) What kind of a change are we talking about?
2) I want to organize in my area. How do we begin to organize?
"What kind of CHANGE are we talking about?"
The first order of change is for poets, writers, musicians, artists, activists to get together to create and perform, educate and demonstrate, simultaneously, with other communities around the world. This will change how we see our local community and the global community. We have all become incredibly alienated in recent years. We hardly know our neighbors down the street let alone our creative allies who live and share our concerns in other countries. We need to feel this kind of global solidarity. It will be empowering.